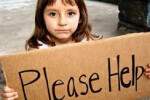 Every 3.6 seconds someone dies because of malnutrition or starvation.
Members from our church join the Madison Area YMCA and the Madison Rotary Club for a community wide event called End Hunger 3.6 to help feed the hungry in the NJ-NYC area.
We plan to prepare and package 150,000 non-perishable meals to be distributed to organizations that fight hunger.
The event is held on Saturday, March 25; 9-2PM (two shifts, click here to sign up) at Drew University's Simon Forum (Athletic Complex), 36 Madison Avenue, Madison, NJ (past the Shakespeare Theatre)
Together we can end hunger right here at home!
Here's a video the Rotary Club put together from last year's event: