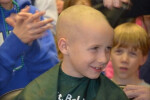 Every year on a (cold) March Sunday, children and adults congregate at Madison's Poor Herbie Irish Pub and at the Downtown Salon to raise funds and awareness for the fight against childhood cancer.
Started by Eric, a boy in our congregation, the local event, one of many nationwide, raised $34,486 last year.
We can beat that in 2017! Show your support and shave your head for the fight against childhood cancer! Or support one of our brave shavees and donate.
The event is Sunday, March 12th starting at 2PM.
Live music by Hatchet Jack (Val Schuszler and friends) and cold beverages at Poor Herbie's.
Head shaving by Downtown Salon.
Shave your head, volunteer your time, or give your money for this amazing cause!
Click on Team Eric to join and donate.