It's been too quiet around here this week!
I got so used to hearing the kids running through the halls during day camp/VBS. It was awesome! Now? It's way too quiet.
Unless you go down to the sanctuary!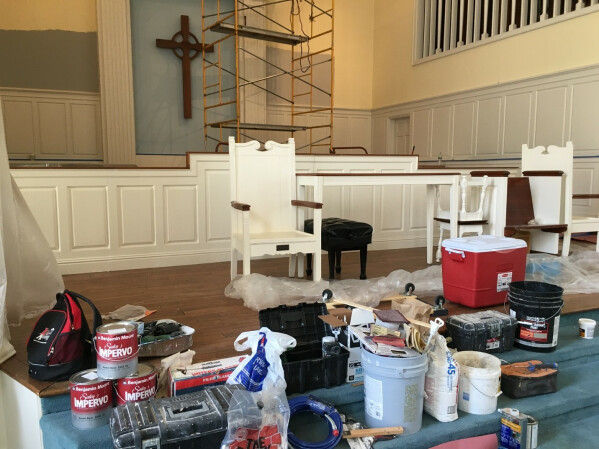 The RENEW campaign transformation of the sanctuary is really coming along. In fact, it's moving like crazy! Last Thursday, they were still masking and working on the trim. By today (Thursday), there are already at least 2 coats of paint up and pews are getting refinished. The old tile is gone from the narthex. This picture is just one view of the chancel. There are more pix on Facebook. Check them out.
Keep our painters and crew in your prayers. This team is really working hard through all the weather swings. There have been scorching and humid days enough to test anybody's mettle. In spite of it, they are knocking it out.
The Spirit is moving through all this dust—you'd better believe it!
I know many of you scattered to the four winds this summer. I've seen some awesome vacation pictures on Facebook. My prayer is that you get to that "happy place" at some point—wherever you feel close to God.
We're just holding down the fort here—a happy place, indeed!
Grace & Peace,
Scott