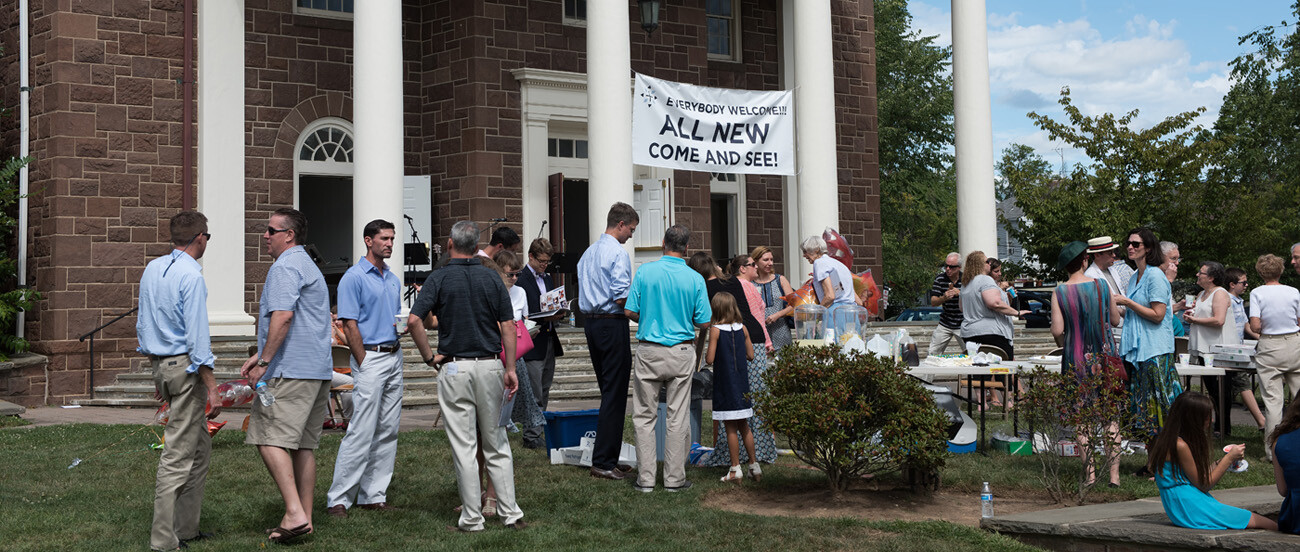 The Outreach Team is always exploring and developing creative community and congregational events. This growing team is a good way to get to know people! We work actively to grow our community involvement and also provide space for groups and organizations. Join us!

Congregational Lunches
Presbyterians know how to eat! Congregational luncheons, the Sunday School Rally Day picnic and the end-of school year BBQ are just a few examples of our on-going traditions beyond the classic pot-luck dinner! We volunteer as chefs, set-up and cleanup. These are great intergenerational events right after worship, so it's easy for families to attend. We make sure to offer vegan/vegetarian and gluten-free food and label foods for allergens. We often invite the greater community — bring friends! Everybody is welcome!
First Friday Film Fest
Free films, food, and fun! The first Friday of each month from October through June. Films start at 7pm in Webb Chapel and are open to all. From international films to fantasy, the movies are selected by a group of regulars and cover a wide variety of genres and topics. Stay for refreshments and a lively, thought-provoking film discussion. No reservations are necessary and many of the films are family friendly, so all generations can enjoy.
Past films include:
A Christmas Carol, Albert Nobbs, Bliss, Charlotte Gray, Chronicles of Narnia, Flight of the Phoenix, Hugo, Invictus, Kinky Boots, Mao's Last Dancer, Men of Honor, Midnight in Paris, Salmon Fishing in the Yemen, Sarah's Key, Snow Flower and the Secret Fan, Songcatcher, Sunshine Cleaning, Sweet Land, Tender Mercies, The Best Exotic Marigold Hotel, The Devil's Arithmetic, The Long Walk Home, The No. 1 Ladies Detective Agency, The Snow Walker, Win Win, 17 Miracles and more.
Click here to sign up for invitations and updates about the FFFF.
For the 2016-2017 season information, click here.
Shrove Tuesday Pancake Dinner and Races
Family Fun on Fat Tuesday — Mardi Gras — Shrove Tuesday. No matter what you call it, it's the day before Ash Wednesday, the beginning of the season of Lent. Every year we organize the highly popular intergenerational "Shrove Tuesday Pancake Dinner and Races." We cook, have fun and do crafts with the children. Some people come in Mardi Gras costume. Members and guests alike enjoy the company, food, fun, popcorn and cotton candy. After dinner, various teams race against each other. Our volunteers decorate the space, help in the kitchen and staff the craft table.
Bottle Hill Day
The whole town turns out for Madison's "Bottle Hill Day," the annual borough festival and street fair, typically held on the first Saturday of October. It is a rain or shine event, free of charge, and open to everybody! Everybody means everybody! Madison residents, businesses, and community organizations participate in this fun-filled day. It's an "all hands on deck!" kind of event and most of the church turns out volunteering one way or another.
We have a tent downtown, with a spin-a-wheel where everybody is a winner and a petting zoo on the church lawn with pony rides and refreshments.
Madison Holiday Arts Festival
Every year on the Friday after Thanksgiving, we open our Sanctuary to the whole town for the "Madison Holiday Arts Festival". We host musical performances, usually by young student performers. Our volunteers welcome the musicians and guests and provide cookies and hot cider.